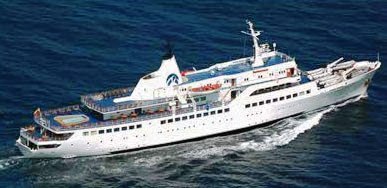 Guests can enjoy interiors with marine details and original pieces of art that talk about the nature of the Islands, all cabin have been decorated with paintings of Galapagos species. Fully carpeted 9 Balcony Suites, 4 Luxurious Legend Suites, 24 Junior Suites, 17 Standard plus cabins and 3 Standard (inside cabins), with ocean views allow you to enjoy the sea without leaving your cabin.
Take your time at your private bathroom, where you will have fresh hot and cold water to refresh yourself and a hair dryer for extra comfort. Other amenities in your cabin are safe deposit boxes, television and Legend special touches.
THE LEGEND HAS 4 DECKS:
Moon Deck:
Upper most deck where you will find The Observatory and 9 Suites.

Sky Deck:
Swimming Pool, Auditorium, Fisherman's Bar, Chess Corner, Museum, Open Restaurant, Passenger Lounge, Dinning Terrace, Dolphins Deck

Earth Deck:
28 Suites, Library, Boutique , Guides Research Center , Hammock Terrace

Sea Deck:
Inside Bar, Medical services, Dinning Room, 15 Superior Outside Cabins
Technical Specifications:
Category: Deluxe
Classified: ISM-SOLAS
Speed: 15 Knots cruising, 19 Knots Maximum
Length: 300 feet / 91.5 mts.
Beam: 47 feet / 14.3 mts.
Draft: 13 feet / 3.9 mts.
Passengers: 110
Crew: 60 plus a Physician
Guides: 6 top multilingual naturalist
Lifeboats: 2 for 58 passengers each
Life Rafts: 10 for 25 passengers each
Dinghies: 5 units
Navigation Aid: Radars, gyro compass, autopilot, visual directions finder, echo sounder, radio telephony, GMDSS equiped
Decks: 4